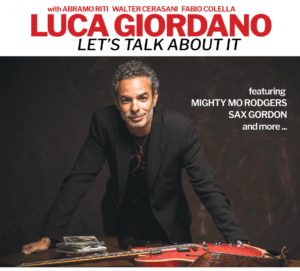 Let's Talk About it – Luca Giordano
(BlueCrawFish Records 2021)
Luca Giordano 3rd Album "Let's Talk About It" is gonna be released under Brazilian label BLUECRAWFISH RECORDS on day 8th February 2021.
A collection of stories and feelings from past years , produced and mixed by Fabio Colella (SASHA STUDIOS – Trasacco Italy);
11 songs, 8 originals signed by Luca Giordano and 3 covers by Mighty Mo Rodgers, Eric "Guitar" Davis and Sean Costello.
The core of the Band on the cd is formed by Luca Giordano on Guitar and Vocals, virtuoso Hammond and Piano player Abramo Riti, Walter Cerasani on Bass and drummer and Producer Fabio Colella.
The CD features the great legendary Mighty Mo Rodgers (Blues Prophet who produced Sonny Terry and Brownie Mc Ghee), and the explosive Tenor Player Sax Gordon (one of the most requested artists on Blues and Soul Recordings nowadays) who wrote horns arrangements for 4 songs on the cd.
Some other special guests from Italy gave a great contribution to the recording process. Trumpet player Alessandro Di Bonaventura, Francesco Cerasoli playin guitar solo on one track, Bass player Walter Monini and Drummer Eric Cisbani , Chiara Giordano on BackVocals on 2 songs and Nicola Di Camillo on Bass.