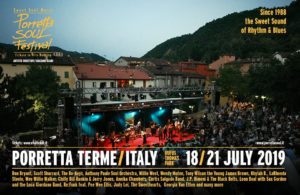 Are you ready for one of the most amazing Music Festivals in the whole world?
Porretta Soul Fest 2019 gonna be from 18th till 21st July, and we are honored to say that we will perform there with Leon Beal and The Luca Giordano Band with Sax Gordon & Horns!!!
After Porretta Soul Fest dont forget The Valley Of Soul!!! You can find us performing in some beautiful little towns around Porretta area.
-19 Luglio, Porretta Terme, Rufus Thomas Park ( Porretta Soul Festival )
-24 Luglio Camugnano – Leon Beal & Sax Gordon with Luca Giordano Band (The Valley of Soul)
-25 Luglio Gaggio Montano, Caseificio Fior di Latte – Leon Beal & Sax Gordon with Luca Giordano Band (The Valley of Soul)
-26 Grizzana Morandi – Parco di Villa Mingarelli – Leon Beal & Sax Gordon with Luca Giordano Band (The Valley of Soul)