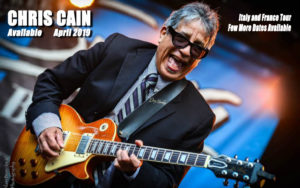 Its almost time again for the one and only Master guitar player CHRIS CAIN to come back to Europe for a spring tour!!!
Backed up by Luca Giordano and his band, Chris Cain, considered one of the top 10 guitar players in the world, will be touring Italy and France from 3rd till 15th April 2019.
Here there are a couple of videos from past years tours:
Live at Swing Weespeelar Belgium 2017:
Soundcheck from Porretta Soul Festival 2018
Few shows already announced and more to come!
Saturday 6th April – Teatro Matelica MC San Severino Blues Winter Session
Sunday 7th April – Lucca Blues Festival
From 11th till 15th April France Tour