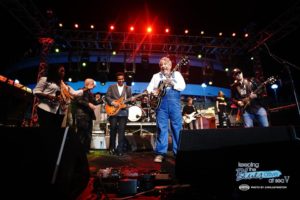 Chris Cain invited by Joe Bonamassa to perform toghether with him, Ruthie Foster, Eric Gales, King Solomone and Paul Shaffer (David Letterman Show) at Bonamassa Cruise!
Chris will be touring Italy and France in April with the Luca Giordano Band !!! More details coming soon!!!
Here is a little clip of Thrill is Gone, by Patricia Rahn !!
You can see Joe Bonamassa smile when Chris Cain starts his solo !!
Thank you Greg Rahn, for this footage. Chis got invited to jam with Paul Shaffer, Ruthie Foster, Eric Gales King Solomon Hicks and Reese Wynans along with these other outstanding artist shown on the Keeping the Blues Alive at Sea Cruise.Chris Cain Blues Band SOUTH BAY JAMS Bay Area Blues

Pubblicato da Patricia Rahn su Venerdì 1 marzo 2019