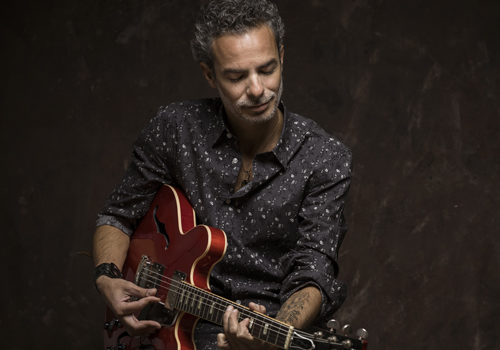 Guitarist, bandleader, singer, and songwriter Luca Giordano has emerged as one of the outstanding talents on the European Blues scene, performing both his own music and backing many of the music's greatest performers.
Born in Italy in 1980, Luca moved to Chicago at the young age of 25 and gained valuable experience working with established Chicago Blues artists like Sharon Lewis, Willie "Big Eye" Smith, Les Getrex, JW Williams, James Wheeler & the Rosa's Lounge All-Stars (including their 2008 appearance at the prestigious Chicago Blues Festival), eventually joining the late Eric "Guitar" Davis and his band the Troublemakers for tours of Illinois, Ohio, Missouri, Wisconsin, and the 2011 Chicago Blues Festival and Virginia Beach Blues Fest (backin up Willie Big Eyes Smith, Muddy Waters former drummer).
After returning to Europe Luca released two solo CDs (My Kind Of Blues featuring Chris Cain, Bob Stroger, and Sax Gordon for Audacia Records & Off The Grid for GG Records) and he collaborated with Spanish singer/showman/harp-player Quique Gomez for GG Records' Dead Mama Blues and Chicago 3011 Sessions (recorded in Chicago in 2011) that also features American Blues stars Bob Stroger, Billy Branch, Jimmy Burns, and Eddie C. Campbell.
In the years following the Luca Giordano Band established itself as one of the go-to bands for American Blues artists looking for professional backing in Europe. Successful tours and growing recognition attest to the quality of their work with respected artists such as Sugaray Rayford, John Primer, Bob Stroger, Nora Jean Bruso, Kenny "Blues Boss" Wayne, Willie "Big Eye" Smith, Jimmy Burns, Toni Lynn Washington, Chris Cain, Carlos Johnson, Billy Branch, Eric "Guitar" Davis, and Sax Gordon to name a few. With his own show or backing these great artists Luca has brought his unique and soulful sound to clubs and festivals in Italy, Switzerland, Germany, France, Belgium, Luxembourg, the Netherlands, Spain, Portugal, Austria, Hungary, Romania, the Czech Republic, Lithuania, and lately he's gained many fans from his performances in Brazil, Chile, Argentina, Patagonia, Georgia and Russia.
In recent years Luca has also become a mainstay of Blues Prophet Mighty Mo Rodgers' touring band and is featured on Mo's new collaboration Griot Blues with African Griot/Musician Baba Sissoko (2017 - One Root Music) while continuing to tour worldwide with both his own band and the best performers on today's Blues scene.
In February 2021 he released his last Album "Let's Talk About It" under Brazilian label BlueCrawFish Records and produced in Italy by Fabio Colella (Sasha Studios).